Skip to content

Handmade films and photography
Documentary. Directing, editing. Co-produced by us.
Pulkka / Skyline Productions co-production
A Bridging the Gap Film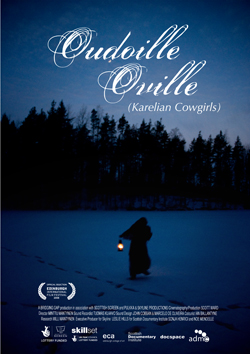 The National Lottery® through Scottish Screen
Skillset Film Skills Fund
Edinburgh College of Art
Angus Digital Media Centre
Docspace
Scottish Documentary Institute
About the film
In 1939, at the start of the bitterly cold Winter War the Soviet Red Army invaded Finnish-Karelia forcing hundreds of thousands of civilians deep into Finland. With men at warfront and women looking after the small children, the responsibility of driving the family cattle through deep snow and hostile lands was forced upon the oldest girls.
A lifetime later, Annikki, Inkeri and Hilkka look back on their adventures on a journey that coincided with their journey to adulthood – and the effect the war had on their lives.
Screenings
FESTIVALS
LJUBLJANA INDEPENDENT DOCUMENTARY FILM FESTIVAL
Slovenia, 21. – 24. September 2009

LONDON INTERNATIONAL DOCUMENTARY FESTIVAL, UK
29th March – 5th April 2009.
5th PARVIN ETESAMI WOMEN'S FILM FESTIVAL
Tehran, Iran 22nd-27th November 2009

OULU INTERNATIONAL CHILDREN'S AND YOUTH FILM FESTIVAL
Finland 16th-22nd November 2009

SLEEPWALKERS FESTIVAL
Tallinn, Estonia 12th-15th November 2009

INVERNESS FILM FESTIVAL
11-15th November 2009
Screened in front of Samson and Delilah.

VANCOUVER INTERNATIONAL FILM FESTIVAL
1st-16th October 2009
Mention of the film in The Geist magazine blog here.

I'VE SEEN FILMS – INTERNATIONAL FILM FESTIVAL
Milan, Italy (International Competition) 24th Sept – 3rd Oct 2009

CON-CAN MOVIE FESTIVAL, Tokyo
18th – 24th September 2009

DAWSON CITY INTERNATIONAL SHORT FILM FESTIVAL
Yukon, Canada 9th – 12th April 2009.

TAMPERE INTERNATIONAL FILM FESTIVAL, Finland
4th -8th of March 2009.

TROMSØ INTERNATIONAL FILM FESTIVAL, Norway
"Films from the North", 13th – 18th January 2009.

LONDON SHORT FILM FESTIVAL, UK
As part of the "Bridging The Gap: Home" screening on
17th and 18th January 2009. Tenderpixel Gallery

EDINBURGH INTERNATIONAL FILM FESTIVAL, Scotland 2008
Shortlisted for the Best Short Scottish Documentary Film Award. Eye for Film review HERE
OTHER EVENTS & GALLERIES
BRINGING THE WAR HOME
As part of the film screening series at Impressions Gallery, Bradford UK. From 28th October 2010

HIDDEN DOOR FESTIVAL 22nd-24th October 2010

'Word of Mouth' film night, Edinburgh 2010

ELECTRIC SHADOWS
6th September 2008, Beijing, China
Credits
Tuotanto/Production
Pulkka / Skyline Productions Ltd
Tuottaja/Producer for Pulkka
Scott Ward
Rahoittava Tuottaja/Executive Producer for Skyline
Leslie Hills
Rahoittavat Tuottajat/Executive Producers for SDI
Sonja Henrici and Noe Mendelle
Ohjaus ja leikkaus/Directed and Edited by
Minttu Mäntynen
Kuvaus/Cinematography
Äänitys/Sound Recordist
Sound Design/Dub
Marcelo De Oliveira and John Cobban
Colourist
Ian Ballantine
Taustatutkimus/Research
Milli Mäntynen

"A haunting, lyrical film"

Vancouver International Film Festival Catalogue
Screening information
Language: Finnish
Subtitles: English
Formats:HDCAM, DigiBeta
Duration: 10min30s
SD Ratio: 16×9 FHA.LB
HD Ratio:16×9
Contacts
Pulkka
Skyline Productions
Scottish Documentary Institute